Login Required Available Courses Login Page Forgotten Password Contact Us
course coordinators Manage My Courses

Course Details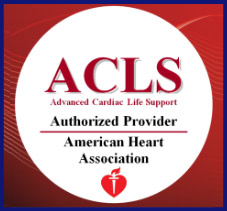 Advanced Cardiac Life Support (ACLS)
Pre-requisites:
This class is designed for Healthcare Providers who provide Advanced Life Support care such as RNs, MDs, DOs, Paramedics, and EMT-Cardiacs. You do not have to hold a current license to participate in this course. Participants should have a current Basic Life Support (BLS aka CPR) for Healthcare Providers certification to get the most out of this course.
Tuition Includes:
Tuition for this course is $199 and includes all course fees including lab fees, certificate fees, and access to our online library. [Note: online option for initial certification is not recommended. Students taking ACLS for the first time should attend a traditional 16 hour course.]
Next Courses
Dates: To be announced
Did you find what you were looking for?
If you are interested in Advanced Cardiac Life Support (ACLS) and are either unable to attend any of the current courses or there are none scheduled at this time, add your name to the waiting list.


Course Information
This class is intended for initial certification. The course is typically delivered in two 8-hour sessions. If the class is scheduled on a weekend, the course will typically be held on a Saturday / Sunday or 2 Saturdays in a row. If the course is held during the week, it will be four 4-hour sessions. Check the Available Courses section of our website for information on particular courses.
Highly Experienced Providers: Healthcare providers who have high level of field/clinical experience may complete the didactic portion online (approximately one hour and approximately $100) and complete a skills testing portion at our facility (approximately one hour and approximately $80). Call for details if you are interested in the Experienced Providers Refresher course.
Price does not include textbooks. Textbooks are not needed for recertification class but are needed for initial certification. Textbooks are available in our library for checkout. We can supply hard hard-copy textbooks for you to purchase if you prefer (cost is $45); notify us in advance if you wish us to do so. Seating is strictly limited and admission is on a first-come, first-serve basis.