Login Required Available Courses Login Page Forgotten Password Contact Us
course coordinators Manage My Courses

Course Details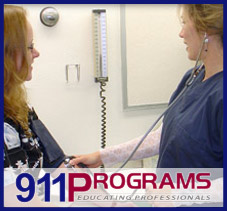 Patient Care Technician
Pre-requisites:
GED or HS Diploma, if TABS tested--must score 6.0 or greater on Math, and 8.0 or greater on reading
BCI, Immunization records (not required for enrollment--but required before clinical placement or phlebotomy lab)
Tuition Includes:
$5100.00 includes tuition,books, lab fees, clinical fees and Job readiness! Additional expenses ( Uniform expense (approx $35 x 2), Professional liability insurance $20 unless you hold another health career license), National HealthCareer Association testing fee ($165 due at end of course). Upon acceptance into the program please submit your deposit of $100 plus a $50 application fee to 911Programs at 175 Metro Center Blvd, unit 1 Warwick RI, 02886. Thank you
Next Courses
| Course Number | Course Type | Tuition | Location | Starts | | |
| --- | --- | --- | --- | --- | --- | --- |
Did you find what you were looking for?
If you are interested in Patient Care Technician and are either unable to attend any of the current courses or there are none scheduled at this time, add your name to the waiting list.


Course Information
Program consists of the following modules: General Medical Studies, Phlebotomy, EKG, CNA, Clinical, and Job Readiness. Program length is 6 to 9 months depending on how often you would like to attend class. CNA classes offered day and night, GMS nights only, Phlebotomy nights (may have day option pending enrollment), EKG nights only. The enrollment coordinator will contact you to discuss core class schedule options. The orientation session TBD. There are only 18 seats available in this course. Your deposit holds seat in course until 3 weeks prior. After tuition deadline date, seats in course will be given out on a first-come, first-serve basis based on those applicants who have paid in full. Immunizations: Students are required to have proof of up to date immunizations. If the student's immunizations do not meet the pre-requisites for clinical entry, it is the student's responsibility to acquire documentation and/or immunizations at his/her own expense.