Login Required Available Courses Login Page Forgotten Password Contact Us
course coordinators Manage My Courses

Course Details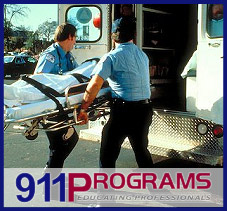 EMT
Pre-requisites:
Suggested ability: able to read, write, and speak English fluently. Must be able to read and write at the 11th grade level and do math at the 8th grade level. Must also have access to a computer with internet access.
GED or HS diploma required to take State Licensing Exam. GED or HS Diploma not needed to start the course.
Tuition Includes:
$970 includes books (note we have switched to electronic books as there are additional resources available; traditional textbooks are available for purchase if student desires), class shirt, CPR, lab fees and new job readiness training. Additional Expense: Professional Liability Insurance approx.($20). Upon acceptance into the program please submit your deposit of $100 plus a NON-REFUNDABLE $50 application fee to 911Programs at 175 Metro Center Blvd, Warwick RI 02886. Deposit of $100 refundable up until 2 weeks before the program start date. There is no deposit refund for students who withdraw within 2 weeks of the program start date because a seat was reserved on your behalf that could have otherwise been filled.
Tuition payable by cash, check, money order, cashiers check, or paypal (fees may apply --usually about 2%)
We are so confident in our program graduates that as of April 2014, 911Programs is offering a 100% money-back guarantee on your tuition if you cannot pass the National Registry Exam. If you would like more details, inquire by email or phone. NATIONAL REGISTRY EXAM FEES AND STATE LICENSE FEES NOT INCLUDED
Next Courses
| Course Number | Course Type | Tuition | Location | Starts | | |
| --- | --- | --- | --- | --- | --- | --- |
Did you find what you were looking for?
If you are interested in EMT and are either unable to attend any of the current courses or there are none scheduled at this time, add your name to the waiting list.


Course Information
Details
The EMT Program is a 12 week program with classes on Tuesday and Thursday evenings from 6p to 9p and Saturdays 9am to 4pm. There are only 18 seats available in this course. Your deposit holds seat in course until 3 weeks prior. After tuition deadline date, seats in course will be given out on a first-come, first-serve basis based on those applicants who have paid in full. If the student's immunizations do not meet the pre-requisites for clinical entry, it is the student's responsibility to acquire documentation and/or immunizations at his/her own expense.
Compliance
Course content and conduct is derived from and/or complies with:
♦ The National EMS Core Content
♦ The National EMS Scope of Practice
♦ The National EMS Education Standards
♦ The Rhode Island Division of EMS Guidelines to Conduct EMS Training Programs
All 911Programs EMS courses are approved by the RI Division of EMS
Materials
The following physical materials are provided by the Program to each student
♦ Prehospital Emergency Care, 9th ed. (Mistovich, Hafen, & Karren), Brady publ.
♦ Accompanying workbook for above text
♦ BLS for Healthcare Providers – Student Manual, American Heart Association, 2010 version (library loan)
The following distributive materials may be viewed online or downloaded and/or printed by the student
♦ Prehospital Care Protocols and Standing Orders, Rhode Island Division of EMS, accessed online via http://www.health.ri.gov/publications/protocols/EMSProtocols_Aug2011_52013.pdf
♦ Additional materials from the Program website found in the Online Classroom Manager
Students are expected to read all assigned chapters and protocols, and perform workbook assignments relevant to the class session PRIOR to the class session.
Faculty
♦ Medical Director: Robert Casci, D.O.
♦ Program Director: William Howe, B.A., REMT-P, EMS I/C, License number 5453-P
♦ Course Coordinator: Bill Howe
♦ Clinical Coordinator: Valerie Howe, B.S., RPT, EMT
Course Format
This course uses the following formats for instruction:
♦ Classroom style lectures: 102 hours (45%)
♦ Laboratory sessions: 48 hours (22%)
♦ Distributive learning and assignments: 45 hours (20%)
♦ Written and practical examinations: 12 hours (5%)
♦ Clinical internship: 8 hours (3.5%)
♦ Field internship: 10 hours (4.5%)
♦ TOTAL HOURS: 225
The following formats are available and optional:
♦ Group study sessions (the school student lounge and classrooms may be used for this)
♦ Online group discussions
♦ Private and group tutoring/mentoring (not covered in tuition)
Distributive Learning and Assignments
This course uses distributive learning and assignments to foster an academic environment and provide students additional resources to enhance learning.
Distributive resources may include but are not limited to:
♦ Additional reading material such as handouts, charts, and relevant EMS-related articles or research
♦ Handouts consistent with powerpoint presentations used during lectures
♦ Media including video, animations, photos, models, etc.
♦ Self-assessment quizzes, scenarios and case studies, discussion questions, and critical thinking question
Students are expected to complete all distributive learning for a class session PRIOR TO the class session