Login Required Available Courses Login Page Forgotten Password Contact Us
course coordinators Manage My Courses

Course Details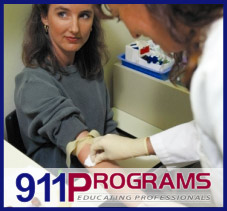 Certified Phlebotomy Technician
Pre-requisites:
Must be able to read, write, and speak English fluently. Must be able to read and write at the 8th grade level and do math at the 6th grade level. Must also have access to a computer with internet access. GED or HS Diploma, BCI within the past 6 months. Immunizations not required for enrollment, but required before lab practice and clinical placement.
Tuition Includes:
Tuition Includes book, lab fees, & clinical fees, Additional expenses include approximately $35.00 uniform expense, professional liability insurance $20 (will review in orientation and $115 National Exam fee:payment not due until completion of program and payable to the National HealthCareer Association
Tuition payable by cash, check, money order, cashiers check, or paypal (fees may apply --usually about 2%)
Next Courses
| Course Number | Course Type | Tuition | Location | Starts | | |
| --- | --- | --- | --- | --- | --- | --- |
Did you find what you were looking for?
If you are interested in Certified Phlebotomy Technician and are either unable to attend any of the current courses or there are none scheduled at this time, add your name to the waiting list.


Course Information
Night Program: Classes will be held 3 nights a week for 10 weeks. Classes are held from 6pm-9pm: followed by a two week/40hr/wk clinical rotation within the weeks following class end date. It is recommended that you complete all immunization requirements before the first day of class, but is not required as it can take some time.
FOR DAY PROGRAM, PLEASE CHECK OTHER OPEN CLASSES